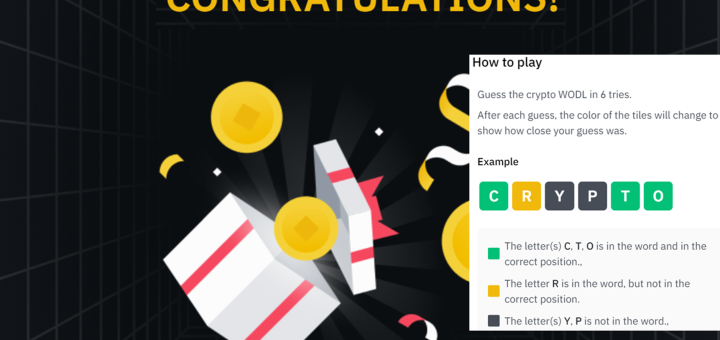 WODL Binance Answers Today
The crypto WODL is a game on Binance giving you the opportunity to win crypto coins. Here the daily suggested words to succesfly answer daily crypto WODL on Binance!
Get a share of prize made available by Binance. You need to guess correct words. It's funny and allow you to recieve crypto rewards into your Binance account. To qualify for the reward, you have to guess minimum five correct answers during the specified period (usually a WODL series per week).
You can play a maximum of two WODL games per day. You can get the second daily WODL when you share Binance news on social media (and link shared is clicked by someone).
Crypto WODL Answers
3 Letters – WODL Binance Answer:
4 Letters – WODL Binance Answer:
FANS*
RARE*
SAFU*
SCAM*
EASY
GIFT
BUIL
VOTE
DATA
5 Letters – WODL Binance Answer:
PERKS*
SUPER*
QATAR*
KICKS*
TRUST
GIFTS
TRACK
INDEX
6 Letters – WODL Binance Answer:
LEGACY*
SPORTS*
ICONIC*
VERIFY*
RARITY*
WALLET*
CAREER*
DESIGN
ANSWER
7 Letters – WODL Binance Answer:
AUCTION*
PREMIUM*
RONALDO*
OFFERED*
SUPPORT*
FEATURE*
STATUES*
ROYALTY*
DISPLAY*
NETWORK*
UTILITY*
8 Letters – WODL Binance Answer:
FOOTBALL*
GREATEST*
ANIMATED*
EVALUATE
VALIDATE
PRIORITY*
PLATFORM