Cryptocurrency Dictionary: What about Ripple
Ripple is the fastest and most scalable digital asset, enabling real-time global payments anywhere in the world.
What about Ripple? Built for enterprise use, Ripple offers banks and payment providers a reliable, on-demand option to source liquidity for cross-border payments. It is built upon a distributed open source Internet protocol, consensus ledger and native cryptocurrency called XRP. Payments settle in 4 seconds.
How to store and earn some Ripple?
There's no way to store Ripple in an offline wallet as happens for Bitcoin. For own it, you can use a Ledger, that is a wallet that has been developed for digital cash and has a physical appearance, which can be touched and carried in the pocket. Or, you can store and exchange it through a tranding and exchange platform like Bitstamp, Kraken and Poloniex.
XRP is the native currency of the Ripple network that only exists within the Ripple system. Only 100 billion XRP was created at Ripple's inception, with no more allowed to be created according to the protocol's rules. For this reason, XRP is a scarce asset with decreasing available supply. Each Ripple account is required to have a small reserve of 20 XRP that is used to assign to a user a Ripple address.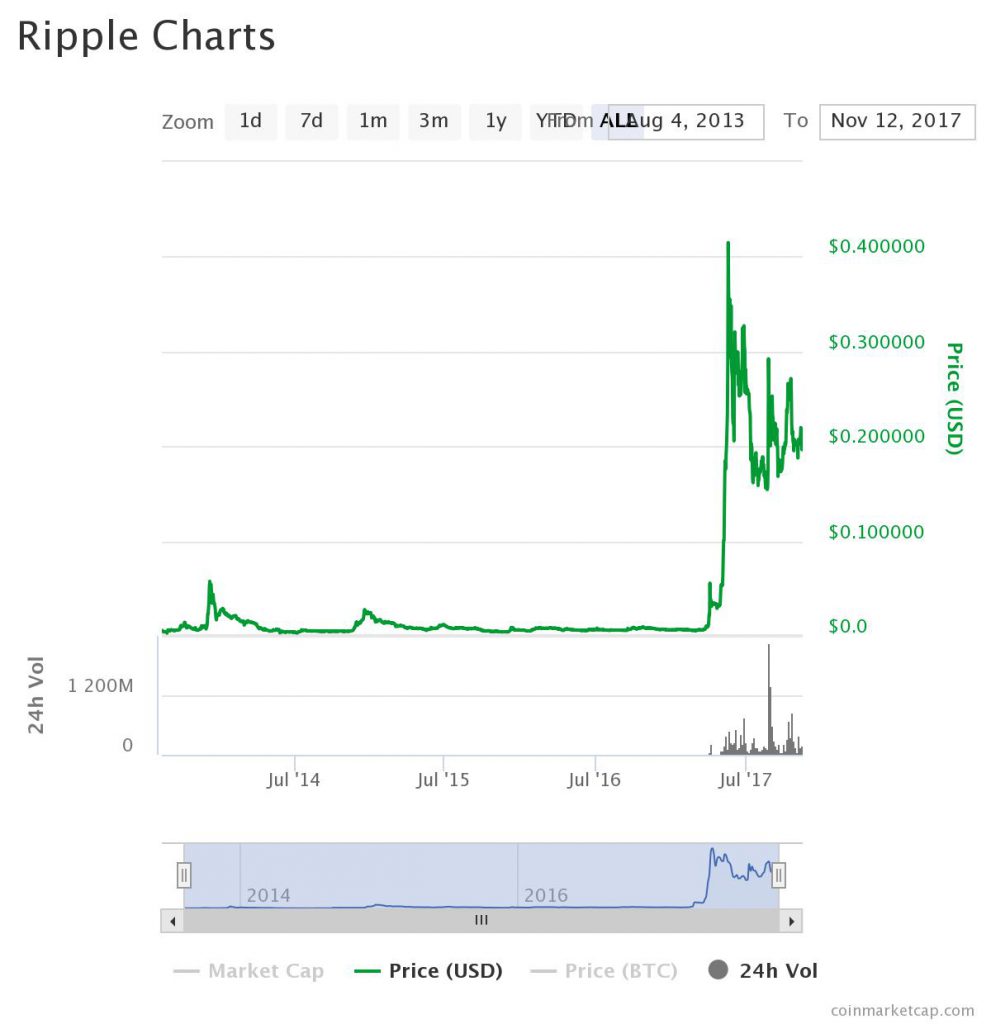 The predecessor to the Ripple, Ripplepay, was first developed in 2004 by Ryan Fugger. He was conceived of the idea to have a local exchange trading system in Vancouver, that was a decentralized monetary system that effectively allow individuals and communities to create their own money.
In May 2011, they began developing a digital currency system in which transactions were verified by consensus among members of the network. This payment system use less electricity than bitcoin and perform transactions much more quickly than bitcoin.
Since 2013, the protocol has been adopted by an increasing number of financial institutions and obtained a virtual currency license from the NY State Department of Financial Services, making it the fourth company with a BitLicense.
As of November 12, 2017, its market capitalization in US$ is equivalent to 7,777,437,005 at around $0.20 per ripple and with 38,531,538,922 XRP circulating supply.
As already said, the maximum supply is 100,000,000,000 XRP and the current total supply is 99,993,667,738 XRP.
Find general information as well as a list of services and exchanges that support Ripple at the Official website and on Wikipedia.
HTH,
CryptoAddicted team.